Does this face look familiar? Meet Ruth Bader Ginsburg, AKA The Notorious RBG.
RBG is an American lawyer, and one of 8 judges that sit on the US Supreme Court (the highest court in the US). When she was appointed in 1993, Ruth was only the 2nd ever woman to be given the title. She has used her position to fight for women's rights, equality and fairness since long before you, your Ma, and maybe even your Grandma were born.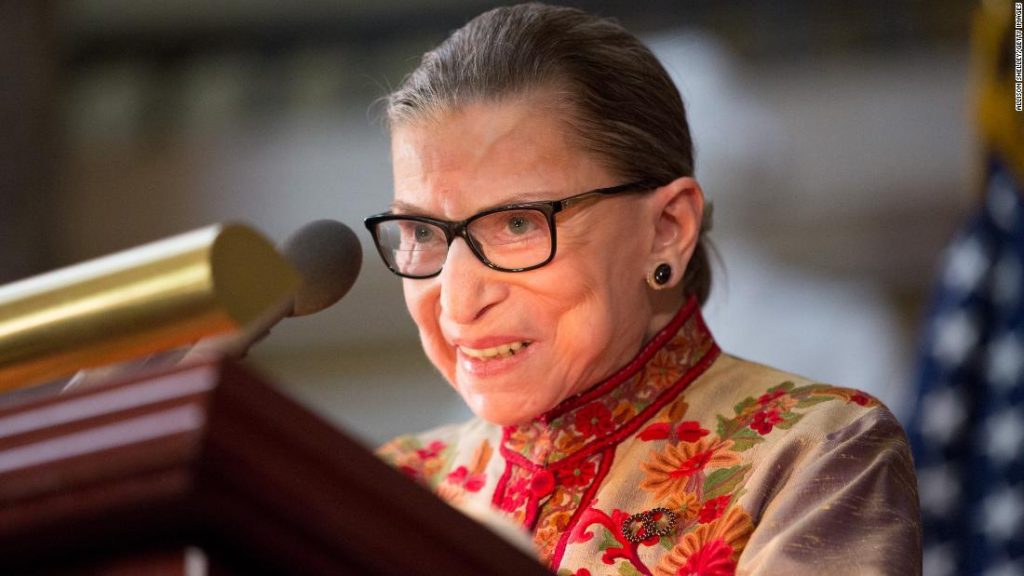 Here is all you need to know…
Her Mom was also a Badass…
Ruth's Mom, Celia, died the day before RBG's high school graduation, which left a huge mark on Ruth. In fact, to this day, she still say's that Celia was the smartest woman she has ever known.
Celia went to work at 15 to pay for her brother's education, which wasn't unusual, so she never graduated high school. However she instilled in Ruth passion, ambition and self-belief, teaching her that education would her vehicle for success.
When Ruth was nominated for the supreme court she said…
I have a last thank-you. It's to my mother. My mother was the bravest, strongest person I have ever known, who was taken from me much too soon. I pray that I may be all that she would have been had she lived in an age when women could aspire and achieve and daughters are cherished as much as sons.
She had to fight for every single opportunity…
As a young woman, RBG took a civil service test and was offered her first job. At the interview, she mentioned she was 3 months pregnant with her daughter, Jane. Without warning, her rank, pay and benefits, were immediately reduced. When Ruth became pregnant with her 2nd child, whilst working as a University professor, she concealed it for as long as possible to avoid discrimination.
Ruth was one of just 9 female graduates in a class of 500 law students at Harvard in 1956. When applying, each of the 9 was asked to justify why they should be offered a spot that would have otherwise been taken by a man.
Ruth graduated top of her class, but struggled to find a job, with one law firm stating that they would have to rein in their swearing around the office if she was there. Eventually, with the help of her professors, she was given an entry level clerk role. She was told she would be paid less than her male co-workers because "you have a husband who earns a good salary".
Her husband was a legend…
RBG was married to the love of her life, Marty Ginsburg for over 50 years before he passed away in 2010. During a time when women were expected to put their husbands' needs before their own, Ruth and Marty were always, before all else, a team.
When Marty, also a successful lawyer, was busy trying to make it, Ruth did most of the housework and child care duties. Afterwards, as Ruth's career started to take off, Marty would have a dinner ready for her when she came home from work. In fact, they both agreed that he was by far, the better cook. Ruth hasn't cooked a meal since 1980.
Before Marty died he told a friend. "I think the most important thing I have done is enable Ruth to do what she has done."
Ruth is really, really tough…
Ruth is 86 years old, but still works out with a trainer. At 5ft tall and weighing in at 7 stone, she can still do pushups, and bench press over 30kg. She has battled cancer a number of times, but was encouraged by her co-worker to do chemo on a Friday, so she'd be okay for work by Monday. She has no plans to retire, and says that she will work until she is no longer physically able to.
Last year, not one but TWO films were made about her life…
The first is a documentary which you can watch on Netflix, called RBG..
…and the second, a biopic called "On the Basis of Sex" about her work on gender equality, can be found on Sky…
Header image by Hunter Chapman