There clearly won't be an awards show in 2018 that won't have a strong statement to show that the females are reclaiming their power in the entertainment industry. This is important for all of us, as hopefully the effects of this cultural shift will spread far and wide, so all of us will reap the benefits in whatever our industry and wherever our talents lie.
Kesha was one of the first to speak up about the alleged sexual assault she endured from Dr. Luke, the music producer who held complete and absolute power over her career, and stopped her from producing music for 4 years. Last night, she performed at the Grammy's surrounded and supported by her fellow artists and we were literally not able.
She belted out the song 'Praying' a ballad for those who have been controlled, exploited, abused or intimidated. As the song ended, her emotions were clear, and she was hugged by the women who sang along with her, including Cyndi Lauper, Camila Cabello, Bebe Rexha, Julia Michaels, and Andra Day.
Watch the full performance below.
https://youtu.be/2AzYkNtyZKY
Introducing Kesha, Janelle Monae gave an amazing and inspiring speech about the Times Up movement, "We come in peace, but we mean business," she said.
Read her full speech, below:
Tonight, I am proud to stand in solidarity as not just an artist, but a young woman with my fellow sisters in this room who make up the music industry: artists, writers, assistants, publicists, CEOs, producers, engineers, and women from all sectors of the business. We are also daughters, wives, mothers, sisters, and human beings. We come in peace, but we mean business. And to those who would dare try and silence us, we offer you two words: Times Up. We say Times Up for pay inequality, Times Up for discrimination, Times Up for harassment of any kind, and Times Up for the abuse of power. Because you see, it's not just going on in Hollywood, it's not just going on in Washington, it's right here in our industry as well.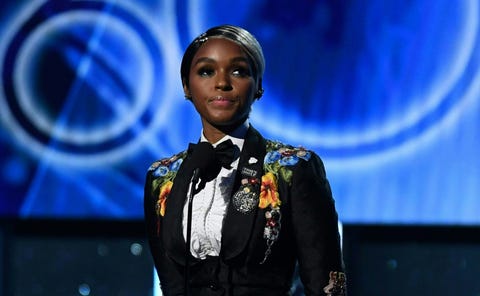 And just as we have the power to shape culture, we also have the power to undo the culture that does not serve us well. So, let's work together, women and men, as a united music industry committed to creating more safe work environments, equal pay, and access for all women.
And as artists so often do, our next performer embodies the great tradition of delivering important social messages through their music. This fearless two-time Grammy nominee inspired so many of us including myself, when she spoke her truth on her album, Rainbow, which was nominated for best pop vocal album tonight. Here to sing "Praying," joined by Cyndi Lauper, Camila Cabello, Andra Day, Bebe Rexha, Julia Michaels and the Resistance Revival Chorus, we are honored to stand with you and welcome you, Kesha.