Growing up in today's world is no easy task. Many of the women we look up to and aspire to be like, tend to be online, from hundreds and thousands of miles away or even both. It's easy to forget that many inspiring women come from the little island of Ireland. From modern-day to those in the history books, we decided to share some of the most inspiring Irish women that we think you should know about.
1. Constance Markievicz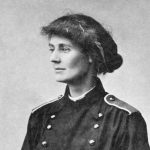 Markievicz lived an eventful life, to say the least; born in 1868, she was the daughter of an Arctic Explorer and childhood friend of W.B Yeats. In 1911, she spoke at an Irish Republican Brotherhood demonstration in front of 30,000 people, threw stones at pictures of the British monarchy, and burned a British flag stolen from Leinster House. She was jailed as a result. Having fought for six straight days and as second in command of the Irish Citizen Army during the 1916 Easter Rising, she was sentenced to death. However, the judge reduced it to life in prison 'on account of her sex'. After the Rising, she was the first woman to be elected to the British House of Commons. She refused her seat and joined Dail Eireann instead. She served as Minister for Labour between 1919-1922, making her the first female cabinet minister and the second-ever female government minister in Europe.
2. Laura Brennan
After receiving a diagnosis of terminal cervical cancer at the age of just 25, Laura Brennan became a prominent campaigner in favour of the HPV vaccine. She was an ambitious, clever, and very determined young woman who worked tirelessly in the hope that any parent with misgivings about the vaccine would hear her story first. Minister for Health Simon Harris said at the time that "the rising number of people getting the vaccine was a testament to Ms. Brennan's campaign". She has appeared in national media time and time again and The Royal College of Physicians of Ireland awarded her the Patient Advocate Medal in honour of her efforts. Since her passing in 2019, Laura's family carry her shining light of truth and create a future for the next generation that is free from harmful strains of HPV and the devastation that they cause".
3. Mary Robinson
Hailing from Ballina, County Mayo, and respected as an academic, barrister, and Senator, Mary Robinson was elected as Ireland's first woman president in 1990. A huge advocate for women's rights, she worked on issues such as;  the right to the legal availability of contraception, removal of the requirement that married women resign from the civil service, and the right for women to sit on juries. She brought a new lease of life to the role and passed two important bills into law; the legalisation of contraception and decriminalising homosexuality. Is it any wonder that she is considered to be one of Ireland's most popular presidents?
4. Sinead Burke
Through writing, public speaking, lecturing, and social media, Sinéad highlights the lack of inclusivity within the fashion and design industries and consults with leadership to ensure the process of designing for, with, and by disabled people is embedded into their business model. The activist and writer's success has allowed her to make appearances on the cover of Business of Fashion to landing a role as contributing editor at British Vogue. She is currently undertaking a Ph.D. in Trinity College, Dublin on human rights education that explores the voice of the child in school. Whilst curiously challenging the intersection of design, empowerment, beauty, disability, and empathy.
5. Sonia O'Sullivan
Sonia O'Sullivan was Ireland's premier athlete and sportswoman during the 1990s, winning medals in the Olympic Games, World Championships and European Championships. Over her hugely successful career, she managed to win 8 gold, 6 silver, and 2 bronze medals at all the major world athletic competitions, including a silver medal in the 2000 Sydney Olympic Games for the 5000m race. She currently still holds the world records for 2000m at 5:25:36 and a 2-mile run at 9:19:56, both of which have remained unbroken for 20 years.  She officially retired from the sport in 2007, and now works as a commentator for RTE Sport during their coverage of high profile athletic events.
6. Aoife McNamara
In 2019, Aoife McNamara founded AOIFE Ireland, a luxury womenswear label established on the basis of sustainability. In her short time as a designer, Aoife has dressed people from Louise Cooney to Roz Purcell. Aoife can often be found including sustainability in her everyday lifestyle as well as in the fashion industry. This is a very big passion of hers that she truly believes in. In the few years since she finished school, the Limerick-native has completed a four-year fashion-design degree at LSAD (Limerick School of Art & Design), taken a job as an intern for Paris Fashion Week, worked with Marc Jacobs and pulled together a successful fashion brand from scratch.
If you have a story you would like to share or would you like to tell us about your hero, contact us on info@shona.ie