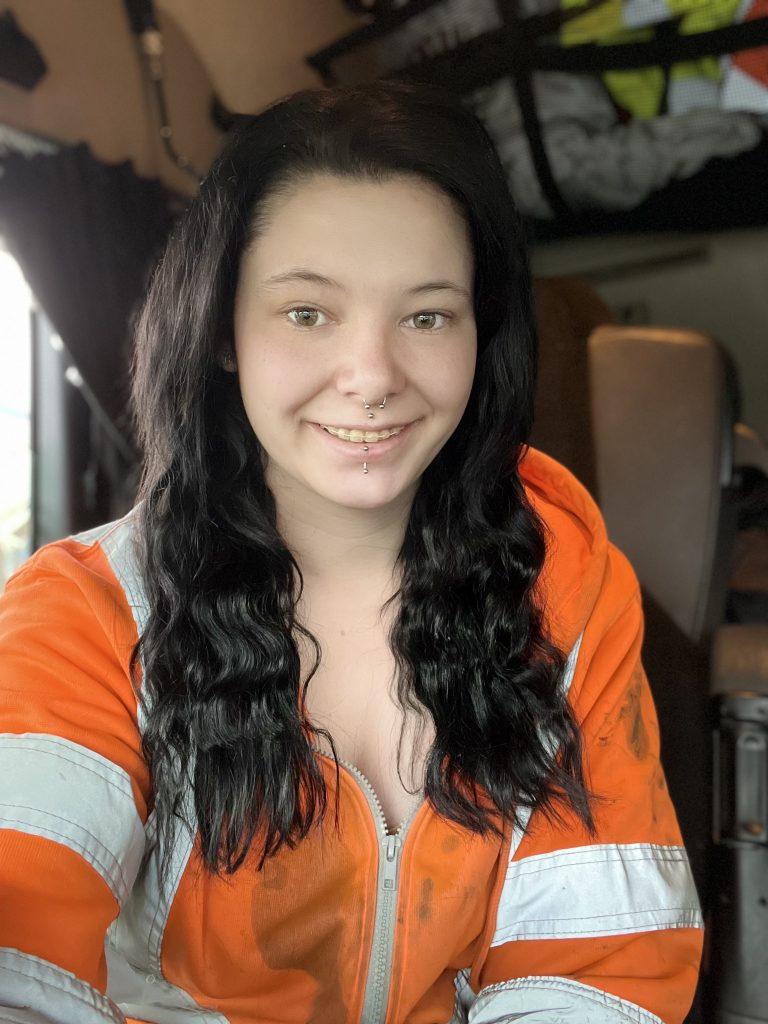 Here at Shona, we are all about representing girls, women, and non-binary people from all backgrounds, but we especially love when we get to meet someone who is stepping outside of what is often considered "the norm".
So today we would like to introduce you to Chloe! Chloe is a 25-year-old woman who drives Class 1 lorries for a living. Chloe has been driving for about 9 months now. So, we'll leave her to fill you in on her life as a trucker..
Chloe, you work as a class 1 HGV driver, tell us what your working day looks like?
As I am a tramper and do UK work, I go out on a Sunday night and pick my unit up on Monday morning. Then I get my trailer and drive to my drop off location. Next up,  I will receive a reload which I then bring back to the boat and ship. I will also have my details for the next day including times for when I lift my trailer and start to head down towards my drop.
Did you always want to work with vehicles or where did the passion start?
When I was younger, I always wanted to be a mechanic but never did I think I would drive lorries! My passion for lorries came from my husband. When he passed his test, I found myself wanting to be with him in his lorry more and more. I even went out for the full week working with him.
I also want to point out that I am a uni dropout. I applied for college when I was in school but got rejected. So, I went to tech to do my personal training. Then I reapplied for college and got an unconditional offer 4 years later. I was absolutely buzzing to start but it ended up just not being for me! So, I just wanted to remind you that just because you don't go to uni or college, it doesn't make you any less of a person! I'm definitely glad things worked out the way they did for me! 
Chloe, we met you through Women In Wheels, a support network for women working in the automotive, transport, and logistics industries. Could you tell us a little bit about how important this support network is for you? 
As a woman in a male-dominated industry, it is very important to have a go-to support network. You can share your experiences with other women who have experienced the same kind of situation as yourself and know that you are not alone when it comes to this job.
Your industry is very much male-dominated. Does this bring any challenges or benefits for you?
It can bring a number of challenges. Some men still can't adjust to the fact that a woman can drive a lorry. Sometimes even better than they can! There have been numerous occasions that I've had men make comments at me about driving lorries and congratulating me on doing so but yet if I was a man they wouldn't do that. Some people are just very curious as to what it is like being a woman in such a male-dominated industry which I love when they ask questions as it's good to give people an insight as to what it is like as a woman. Especially in this day and age when it shouldn't be such a shock a woman doing a man's job!
The benefits of doing this job will show you that just because you're a woman doesn't mean you can't get your hands dirty. Doing this job has shown me that I can do anything I put my mind to.
What tips would you have for a young Shona reader who wants to follow a career as a HGV driver? Where do they start?
If you want to do it, DO IT! Do not let people put you off by saying 'it's a man's job', because it's not. It's a job that anyone can do. If you have an interest in this role then do it. Don't let anyone tell you any different. There have been numerous occasions where I have wanted to pack it in and never look back at it but that's just part of the job. Things won't always go as planned, but nothing will ever run 100% every day of the job! As much as I have wanted to give up, I never have and it has made me a better driver.
Quick-Fire Round:
Favourite Hobby?

Playing my Nintendo switch! Just completed GTA 3! Old I know but I'm happy I've finally completed it lol!
Favourite Quote?

' Be your own kind of beautiful'
Favourite song?

Cool for the summer!
Favourite person ever?

Definitely my husband. I honestly wouldn't be the woman I am today if it wasn't for him pushing me to do what I want and not allowing me to give up! So big shout out to him, I love and appreciate you so much!
We just wanted to say a massive thank you to Chloe for her time and for sharing her experience! It's pretty deadly having the opportunity to learn about all the potential careers that are out there! 
If you or someone you know does a cool, unusual or interesting job, please get in touch, we'd love to share your experience to inspire others x