We won't lie to you, Cristine Rotenberg is a firm fav of the whole SHONA team and we were buzzing at the chance to do a Shona Heroes on the holo queen herself! Whether you are new to the holo fam or you've been there since polish mountain, we guarantee you'll be heading over to Youtube as soon as you are done reading this article! 
Originally born to a very normal life, Cristine (with no 'H') Rotenberg has left a holo stamped mark on the world after her video showing her journey to polish mountain went viral. Cristine has a daytime job as a data analyst for the Canadian government, and in recent years has taken her love of nail polish, particularly holographic polish, to the YouTube platform. She now successfully runs her own business – Holo Taco – while maintaining four YouTube channels, hosting a weekly podcast and working her day job! When does this girl find time for sleep!?
While we say that Cristine has a relatively normal life, she did do some acting as a child and featured in 15 different commercials, including a Furby commercial.  She put her acting career aside at age 12 as she wanted to focus on her studies. She graduated with a master's degree in sociology with a concentration in criminology from Carleton University in 2014. Cristine now works as an analyst at Statistics Canada.
Her online career originally began with blogging when Cristine launched Simply Nailogical in 2014. She used to post pictures of her nail art on Instagram before being requested by her following to begin publishing longer videos. Cristine started her channel in late 2014 but originally focused on her nails. She did not show her face at all during the videos and mainly used voice-overs. Her content has developed to now feature her and her partner Ben discussing hot topics and creating fun content. She even managed to get nominated for a 'beautiful person' award at the Streamys because of her promotion of fun!
Cristine rose to fame in 2016 when she posted a video of herself applying over 100 coats of nail polish and going to 'polish mountain.' This video went viral and had many other YouTubers try to recreate the video. She expanded her video platform by launching Simply Not Logical. Her content has developed and grown over time and now through her platform, she has created a Podcast that discusses current events. A podcast in 2020 featured Dr Howard Njoo, who is the Canadian government deputy chief public health officer. They aimed to teach their followers about Covid-19 and answer some common questions.
So, why do we consider Cristine Rotenberg our fav YouTuber? 
Now with over 7.2 million subscribers, Cristine aims to give back to her following and has established the Simply Scholarship which pays for one semester's worth of tuition to students attending post-secondary institutions in Canada. Originally there was only one receiver of the scholarship, but this year, she aims to support three students in their education. If you think that wasn't generous enough, her charity work did not stop there. Like many YouTubers, Cristine has merch that features her beloved cats – Menchie and Zyler. So why is that a point worth noting we hear you ask, well, rather than pocketing the profit for herself, Cristine has donated all the profits to animal sanctuaries across Canada. She regularly donates to different animal charities in an effort to give back some of the wealth she's amassed.
We also love that Cristine tends to defy YouTube culture as she still maintains her day job. While many decide to ride out their moment in the spotlight, she works hard to keep her day job as it is something she adores doing. She regularly preaches to her followers that fame is not everything and that having a normal 9-5 job can be rewarding. "I live a bit of a double life, but I like it that way," Cristine said.
I hope that young girls watching me can see me as an example that you can both be taken seriously as a professional in your field but still be allowed to have fun and have a creative side, outside of that.
In the past year, she has had to cut back her hours with her 'normal' job as her new business venture – Holo Taco – has become successful. Her first launch of Holo Taco sold out within minutes and she has had multiple successful launches since. Regardless, Cristine has made it clear that she is hoping to keep her job with Statistics Canada for as long as she can.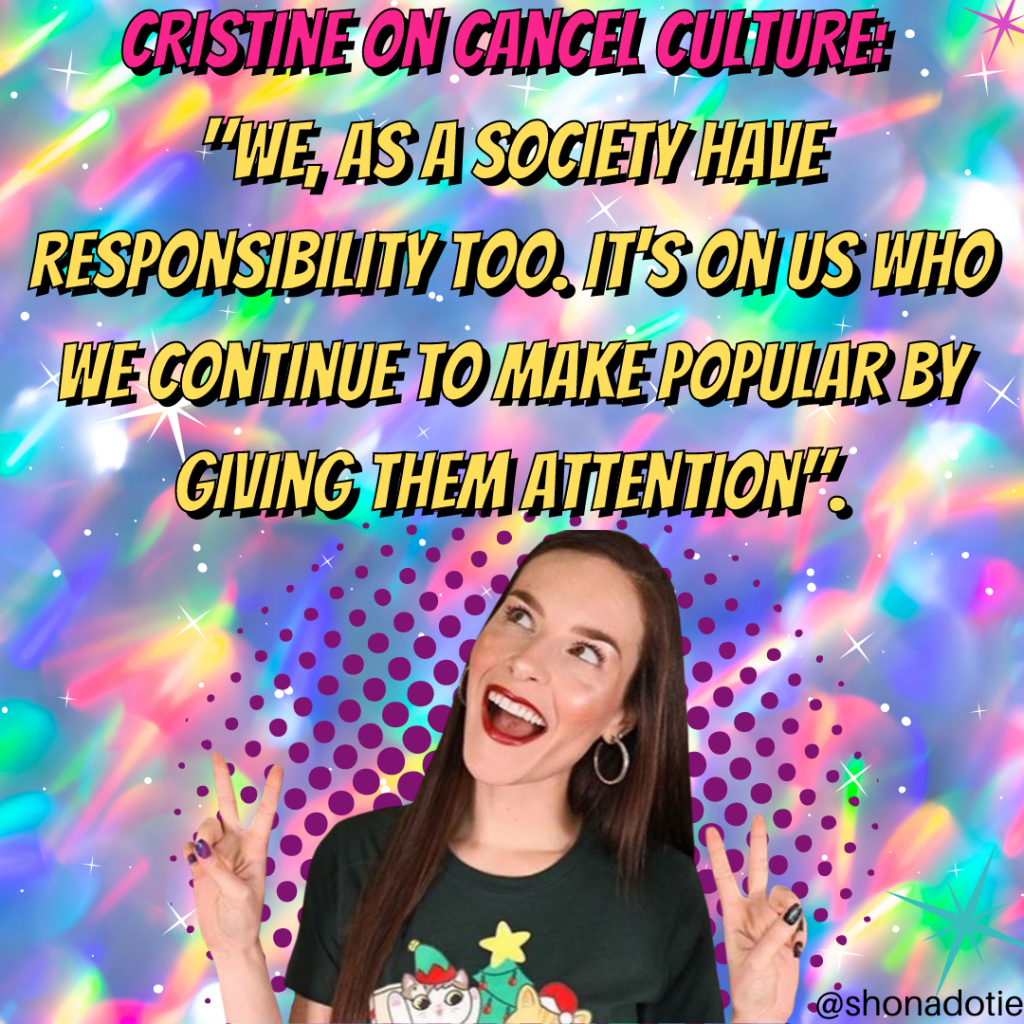 We here at The Shona Project think that Cristine is truly a force to be reckoned with and is the literal definition of a BOSS. She is an inspiration as she shows how much you can achieve if you are passionate about something. We are so inspired by her and we cannot wait to see what she does next (hopefully it includes a nap or a holiday). Check out the video below from her podcast channel where she takes the opportunity to chat with her boyfriend Ben (aka BEYYYYYYYYYYN),  about why they both continue to work their day jobs.  
If you would like to support us and the work that we do,  you can donate below ❤