The Shona Project is for girls, by girls and about girls. In order to make sure we always have the best interests of our girls at heart, we established our Youth Council, a group of young Irish women from all over Ireland, and with a range of different backgrounds and interests.
Our youth council help us make all our decisions, tell us when we're doing things right and break it to us gently when we're missing something special. They are our ambassadors and our eyes and ears on the ground. If you would like to apply to join this group of brilliant young ladies, get in touch. The more the merrier.
Lets meet the crew….

Emma
Emma, from County Kilkenny, is passionate about equality, human rights and politics, and aims to create a world in which everyone has equal access to opportunities and support. She battled with anxiety for a few years after her parent's divorce, and now uses her new-found strength to encourage conversation around mental health.
Fiona
Fiona is a talented playwright and actress who produces beautiful pieces based on the female experience. Not one to conform to tradition, she relocated from her native LA to Ireland perfect her craft. One to watch for sure..
Skye
For years, Skye was unable to attend school due to her mental health struggles,.Now she is doing well, and is keen to share her story to help reduce the stigma around mental health, and hopefully help other girls who are struggling
Katie
Katie started her own company at 16, selling gender neutral clothing. Her entrepreneurial spirit was recognised when she was awarded National Youth Entrepreneur of the Year and U magazine's "30 under 30" award. Katie will represent Ireland in the European Finals in Sofia, Bulgaria this November.
Alana
Alana is a talented actress, spoken word actress and filmmaker. She runs her own production company, making short films for social enterprises, charities and changemakers. An accomplished youth activist herself, Alana is hugely involved in youth empowerment in Ireland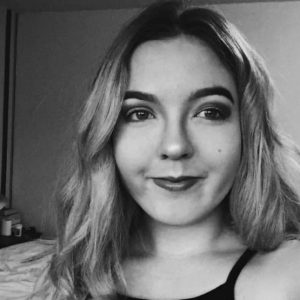 Isobel
Izzy is a talented writer, activist and debater with an amazing future ahead of her. She wrote a powerful post about labels which is one of our most read and shared posts to date. Check it out here.
Lauren
Lauren, from Cork, is a passionate feminist and women's rights activist. Lauren knows sexism exists from the way she felt she had to conform to stereotypical ideals as a teenager and the pressure she, herself, put on other girls as well. She now aims to break this cycle through her weekly feminist vlog channel which can be viewed here."
Maebh
Maebh is immensely interested in Gender Equality, as a measure of global development and a fierce advocate for the Sustainable Development Goals. Using her background in debating, development education and politics, she aims to promote active citizenship at every level to ensure a more just world.
Destiny
Destiny is passionate about promoting storytelling and shared experiences as a way to encourage others to share their own experiences. She believes that stigma and shame hold us back when we should be celebrated as survivors of trauma. Destiny is studying Social Work and is a talented writer.
Ciara-Beth
Growing up with high functioning autism, Ciara-Beth experienced difficulty maintaining eye contact, and the social isolation that came as a consequence. In an attempt to alleviate the negative effects that minimal eye contact had on her life, and the lives of others on the autism spectrum, Ciara-Beth created an app called MiContact.
Sinead
Sinead had a really hard time in school when an important friendship turned bad. Inspired by the effects this had on her confidence, she started a movement to promote kindness. Sinead hopes that in her role at Shona, she can really encourage girls to support and accept each other.
Alisha
Alisha, a talented writer from Waterford, and has a passion for English and reads about 3 books a week! She wants to use this platform to encourage young women to stand together and support one another, and hopefully to make girls who are struggling realise that they are not alone.
Iona
Iona is our music buff, a firm believer that there is "power in your playlist". Iona holds a  Diploma with the West London College of Music in Button Accoridon, and loves to sing, especially in the old Sean – Nós style.
Megan
Megan is 18 and from Mayo. Growing up, she struggled with an eating disorder. Now she wants to use this platform to help others with similar stories, and to tell her own.
Abigail
Abigail wants to be a role model for girls, for them to be confident and to believe in themselves and for them not to be ashamed when times get tough. She is a passionate mental health ambassador, and also acts as an ambassador for SeeChange.
Naoishe
Naoishe is 22 and from Louth. She is passionate about languages, volunteering for her local Crosscause Charity, donating Christmas shoeboxes, movies and fashion. At 17 Naoishe became ill with POT Syndrome, Chronic Fatigue (M.E) and Fibromyalgia. She hopes to use this platform to share her story, raise awareness about illnesses that aren't always visible and help others who are struggling with similar health.
Joy
Joy is one of the founders of The Shona Book Club, and a talented writer. Her favourite book is Fantastic Mr Fox by Roald Dahl
Daisy
Daisy is one of the founders of The Shona Book Club, and a talented writer. Her favourite book is The Cider House Rules by John Irving
Libby
Libby is one of the founders of The Shona Book Club, and a talented writer. Her favourite book is The Handmaids Tale, by Margaret Atwood
Clara
Clara is passionate about improving young people's mental health, with a particular interest in overcoming body image issues and stamping out diet culture. With a background in managing a non-profit that engages young people with European issues, she also seeks to empower the youth of today to speak their mind on issues closest to their hearts.
Michaela
Michaela, from Waterford, is currently studying in Maynooth University. She is an advocate for young people's voices in Ireland. She is also a passionate activist for student representation, student engagement, education and the student learning experience. Areas she is involved in include mental health, equality, social justice, women's rights, environmental issues, sustainability and youth empowerment. She can most likely be found reading a book or at home in Waterford with her family, her dog Roxie and her four cats! Her love of the Shona Project is immense. Her aim is to celebrate amazing women with diverse passions and to hopefully provide support and be an inspirational mentor like so many she has in her life.
Aoife
Aoife was diagnosed with autism when she was 6, and hEDS (A rare connective tissue disorder) when she was 12, and so she is passionate about the rights of people with disabilities. She's an outspoken activist, and has worked with Plan International's Youth Advisory Panel on a number of projects relating to girl's rights. She's also obsessed with sustainable fashion and vintage clothing! Aoife is a talented writer and artist, and hopes to go on to study Sociology and Film in university.
Chloe
Chloe (pronouns: she/her) is 20 years old and from Tipperary. She is  a student in UCC studying French and Politics. She is super passionate about feminism and all things relating to gender equality! Chloe loves educating others and encouraging people to get involved in feminism, activism and politics and showing that it doesn't have to be as boring as you may think. Politics aside, she loves reading, writing, and cooking – you'll always find her with a book or a spatula in hand. Chloe also runs a small blog in whichshe writes about all the things she loves!  https://sugarspiceandallthingsequallynice.home.blog/
Ruth
Ruth is a 24-year-old makeup artist living in Wexford. Following her life-changing surgery in 2019 she decided to start a TikTok channel, raising awareness about being an amputee and has since gone on to be one of the biggest Irish creators. She aims to break down the barriers surrounding the subject of disabilities and mental health in Ireland through her quirky sense of humour and growing social media platforms.
Grace
Grace is a 27-year-old self-proclaimed fairy living in Waterford. Grace has her own business – Grace Marie Creative – specialising in Social Media Marketing & Content Creation. Having had quite a rough time in school and in her early 20s with her mental health, Grace's goal in life is to help people, especially young women who may be experiencing similar struggles. Grace has plenty of opinions on politics, gender equality, environmental protection, sustainability, equality for people with disabilities, and mental health among other things. She LOVES animals and on any given day can be found working from home and chilling with her cats and dogs!
Ava
Ava is a 22-year-old entrepreneur, founder of Old Soul Vintage. Her business began the day before COVID-19 Lockdown when she received the keys to her new shop. Ava lives to promote sustainable fashion while focusing on helping people find their own individuality with what they wear. She also passionately promotes local artists, designers, photographers & crafters in-store to shine a light on the hidden Irish talents. The global pandemic continues to affect Ava and her business but she's fighting to continue her journey.
If you would like to join our youth council, just email us at info@shona.ie and tell us a bit about yourself. Unfortunately, you must be over 18 to apply.