Happy Fricking Christmas Everyone!
It's that time of year again when we all stress about how to buy gifts for those in our lives that are sustainable, useful, empowering, appropriate and affordable. No pressure right?!
Don't worry! We've trawled the internet for some beautiful gifts for the empowered bestie, sister, daughter or love of your life. Here's our top Christmas picks…
Rosa Parks Print
In 1955, Rosa Parks refused to give up her seat on a bus for a white man. Her actions inspired a Bus Boycott which was a huge event in terms of civil rights.
This print is only one of many gorgeous pieces available on Etsy and is available in 3 sizes and prices start at €13.50. 
Empowered Women Jigsaw
Who doesn't love a good jigsaw?! This one is by far the coolest we've come across as it is filled with inspirational women from all over the world and from all parts of history. 
Who knows, you might even find a new role model as you get stuck into this 1000-piece jigsaw that costs €24. 
Women Are Power Phone Case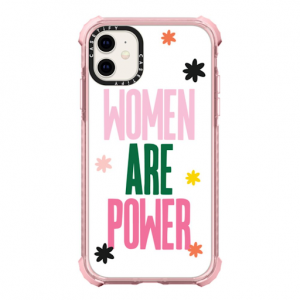 Okay, we're not the only ones that consider our phone case an accessory, right?! Well, this is one of our faves! Sassy yet cute, and lets people know who really rules the world! 
Available in various colours and styles with options for many phone types, this case averages in at a cost of €50. It's a bit pricey, so do some homework, chances are you'll find something just as deadly on Etsy, thats a bit cheaper and also supports a small business! 
Great Women Make History Game 
Who doesn't love a good card game? Especially when it's with friends or family. Well, this is the card game to beat all card games. 
A memory game where you have to match each inspirational woman to their incredible accomplishment. How deadly is that?! 
This game costs €10.50 and is such a great way to learn about some badass women too! 
Princess and the Prick Book
We love a good fairytale, but we were never big fans of how the older ones represented the girls as pushovers. Well, if you know someone who is of that opinion, we have the perfect gift! 
Familiar fables are turned on their heads as your beloved heroines finally have their say. It's advised that there will be bad language and adult humour in this book, so purchase at your own judgement. 
This book is €14 and will definitely crack you up in the best possible way! 
You've Got This! Book
Book recommendation incoming!! Christmas time is the perfect time to find a quiet space, curl up with a blanket and dive into the pages of a new book! Costing €15.95, this book was written by our very own Founder Tammy.  
You've Got This! is a positive and empowering guide designed to help girls find their place in the world and grab life with both hands.
Rare Birds Book Club Subscription
Have you guessed that we are a group of book lovers yet? Another gift idea for the bookworm in your life. 
Rare Birds Book Club have solved the issue of not knowing what book to read. This gift includes a 3, 6, or 12-month subscription where your book lover will be sent a new fiction book written by a female author each month. How cool is that! 
Subscriptions start at £75 for a 3-month subscription, but remember, that means 3 months' worth of books and being part of a deadly community of book lovers.  
Anxiety Journal
Here at Shona HQ, we are all about journaling. There is something so powerful about getting your thoughts out onto a piece of paper. It's a way of clearing your head and lifting the weight off of your shoulders when you aren't ready or able to speak to someone about how you are feeling. 
For €14, this is a beautifully illustrated, practical journal to help combat anxiety, wherever you are. Full of CBT techniques and mindfulness exercises, this little journal is there to help better understand anxiety and help achieve peace and calm.
Empowered Women Empower Women Mug
The perfect way to have a bit of inspiration with your morning cuppa tae..
For €12, why not gift someone with a daily reminder of the power that can be achieved when women come together to support each other? 
Who Runs The World Poster
Every bedroom, office, study space, or even a bathroom (because that's a thing now right?) needs some kind of quirky empowering poster, right? 
This one is IT! Starting at €12, this gift is sure to remind your loved one that women are deadly, and that we really run the world.
Well, that is 10 ideas for you, so you'll have no excuse for not being about to think of a gift now. But honestly, we went down a rabbit hole here and our list to Santa has just gotten 10 times longer. 
If nothing above tickles your fancy, you can find lots of other cool and empowering gifts here or here. 
Thank us later x
If you would like to support us, the work that we do, and join our vibrant SHONA Community,  you can find out more below