The marches that happened all over the world last weekend showed what can be achieved when people use their voices in a peaceful but powerful way.
However, you might be wondering if marching actually achieves or changes anything when it comes to human rights. Well, here are 6 examples of women coming together to make a massive impact, and create change.
The Women's March on Versailles 1789
It was all starting to kick off in France as the revolution was gathering momentum. In October, a group of women started a protest about the price of bread at city hall. The protest grew (without the use of hashtags or facebook invites) to approximately 10,000 women, who decided to march to Versailles to have a go at the king. Overnight, a group of the women broke in to the palace and demanded that the royal family return to Paris, and make sure that there was a supply of food for the people. The king returned to Paris that very day. You can read more about this protest here.
Suffragettes March in Washington: 1913
The suffragette movement spent decades fighting for the women's right to vote. (You can see some anti-suffrage posters here, which need to be seen to be believed.) Marches were taking place all over he world, and this one was planned for the day before president Woodrow Wilson's inauguration (little did we know we'd see this again 100 years later). Thousands marched, and at least 100 were hospitalised. British women were granted the vote in 1918 and America women in 1920. In 1922,  all Irish women over 22 were also given the right to vote. Read more about his march here.
Women March in Pretoria: 1956
During this time, in South Africa, there were limits on the movement of Black People, who had to carry passbooks with them at all times. 20,000 women marched on Union Buildings, and stood in silence for 30 minutes, eventually breaking out in song. This wasn't the only protest which took place, although some of the others resulted in violence, and a massacre in 1960 in which 69 people were killed and 180 injured. The pass laws were repealed in 1986. Read more about this March here.
Icelandic Women's Strike: 1975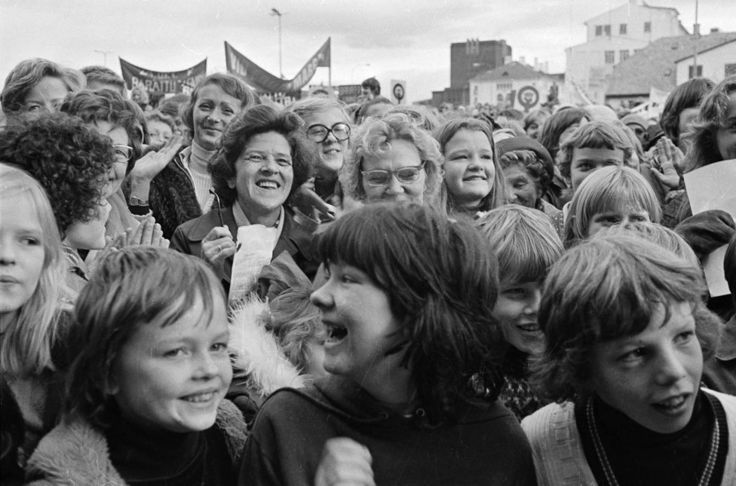 For one day, in 1975, women across Iceland refused to go to work, look after children or do household chores for one day on what they named "Women's Day Off".  Businesses, schools, nurseries and factories all over Iceland had to shut down, and many men had to take the day off to care for their children or drag them to work armed with colouring books and treats. In 1980, Vigdis Finbogadottir, became President, and the first woman in the world to be elected as head of state. You can read more about this protest here.
Abortion Ban Protests in Poland: 2016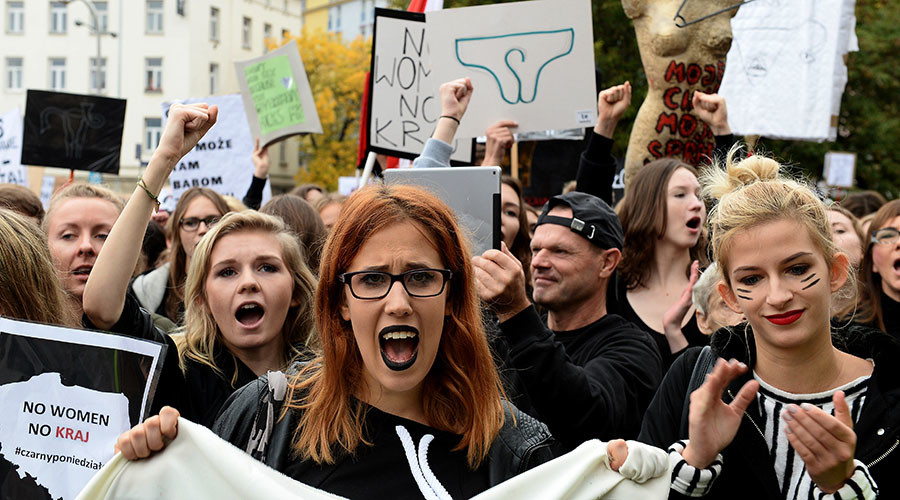 In 2016, politicians proposed a blanket ban on abortion with a 5 year sentence for women who had the procedure. Doctors would also be likely to be imprisoned. Inspired by the Iceland strike, 30,000 women dressed in black, and demonstrated, refusing to go to work or college. Parliament backed down, and the ban was denied. Read more about this protest here.
Argentinian Women Anti-violence March 2016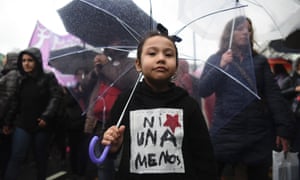 In 2015, 14 year old Chiara Páez was beaten to death by her boyfriend. She was pregnant at the time. A year later 16 year old Luía Pérez was drugged, raped and tortured in an act that was described as "inhuman sexual aggression" by the prosecutor. In October of the same year, tens of thousands of women marched in cities around South Africa to protest these and other femicides which took place. Following the protest, The Argentinian president launched a plan to fight violence against women. Read more about this protest here.